The Rainbow Spiritual Education Center, Inc.

hosted the book release reception for Scattered Leaves: The Legend of Ghostkiller in February 2008.

Lynny comes to the Center frequently so signed copies of her book are accessible.

This is a must read!  The story is one of a tremendous spiritual journey of historical significance.

Singer, songwriter, musician, and now author, Lynny Prince always knew she would eventually write books.

Her mother was a published poet, and greatly influenced

Lynny's writing abilities and talent of which she so graciously passed on to her daughter.

"It's something I've always wanted to do," she says "but this book has written itself. I'm just the vehicle by which it

traveled onto paper. I believe this book was influenced by the spirits of the Indians I've written about. So it is with the help of those same spirits that I attempt to bring to life history the way it should have happened."

Visit Lynny's website at:

Announcing the Release of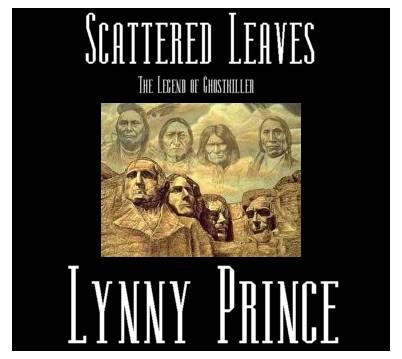 Scattered Leaves - a Synopsis

On December 29, 1862, thirty -eight full-blooded and mixed blood Sioux Indians were hung in Minnesota for various crimes against white settlers during what was known as the Great Sioux Uprising. The crimes were in retaliation for corrupt and questionable actions on the part of the government concerning treaties that were not honored. The hangings are known as the largest mass execution in United States history.

Within the cultural diversity of the tiny town of Moccasin Flats lies a dark past that has threatened the lives of people who live here for over 100 years. An evil stalks the town; numerous murders that have occurred over the years continue to go unsolved. A curse spoken from the gallows in 1862 is the only clue to the horrible killings that go on here.

Father Wilson O'Rourke has lived in Moccasin Flats for over forty years. He is privy to the details of the Ghostkiller curse and knows the family whom it centers around quite well.

He can recite by heart the passages in the bible that correlate between scripture and the prophecy however, he is unprepared to accept that an ordinary Indian boy is the town's only salvation.

Kyle is a 7th generation Ghostkiller whose ancestor was hung during the Great Sioux Uprising of 1862. Falsely accused of taking part in the carnage, the original Ghostkiller was pardoned by President Lincoln, but an overzealous and corrupt General Sibly ignored this detail. Ghostkiller foretold from the gallows of a curse that would befall the town after his death; a curse brought on by the evils of the men in power.

Arriving back into town after a long absence, the time has come for Kyle to face the curse head on, however changing things are much easier said than done. Not only is he being accused of the latest murders, but his jilted, childhood sweetheart threatens to sabotage his every move.

Enter Chase Riley, an ex cop from Los Angles who took the job in Moccasin Flats to escape the horrors of police work in the big city.

The last thing he expects to come across is four mutilated teenagers after only six months on the job.  When he's told about the Ghostkiller curse Chase balks, but a visit by a ghostly apparition convinces him there is more to the curse then just a legend.

Mason Crow Walker is Chief of Police for the tiny town of Moccasin Flats. A mixed blood who grew up on the reservation, he has witnessed some of the horror of the curse firsthand. Mason helped found the American Indian Movement and is not surprised when his nemesis from that era, Special Agent Lee Tarkington, arrives in town to investigate the latest murders. Agent Tarkington is a murdering rebel, hell bent on trumping up a charge and any Indian will do. As well as going after Kyle Ghostkiller, Tarkingtons' agenda also includes Mason Crow Walker.

Nina Bolton was adopted by Kyle's aunt after her parents were killed in a car accident. At the tender age of six, 'Little White Horse' was raised Indian and fell hard for Kyle while growing up with him on the reservation.

When Kyle left as a teenager to go live with his father's people, Nina never forgave him for leaving her. Now that he's back she wants him to beg her forgiveness, but instead she ends up playing a role in the very curse that tore them apart.

____________________________

It's a race between good and evil when this group is thrown together to save Ghostkiller from the hangman's noose and make changes that will forever alter history for all Plains Indians.